Tampa Bay Downs Entries & Results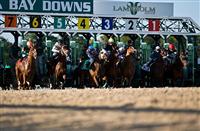 Tampa Bay Downs first opened its doors in 1926 under the name of the Tampa Downs. In 1946 the track was renamed Sunshine Park, then renamed again in 1965 to Florida Downs and Turf Club, before setting on Tampa Bay Downs in 1980.
Racing Nov 24 2018 to May 5, 2019.
Biggest stakes: Derby preps Tampa Bay Derby, Sam F Davis.
Tampa Bay Downs Entries
Tampa Bay Downs Results
| | Prize $ | #/race | Dirt | Turf | Synth |
| --- | --- | --- | --- | --- | --- |
| Wed Feb 26 | $121,200 | 8.8 | 7 | 2 | 0 |
| Sun Feb 23 | $130,300 | 8.3 | 6 | 3 | 0 |
| Sat Feb 22 | $331,100 | 8.9 | 6 | 4 | 0 |
| Fri Feb 21 | $131,700 | 8.9 | 5 | 4 | 0 |
| Wed Feb 19 | $137,500 | 7.8 | 5 | 4 | 0 |
| Sun Feb 16 | $144,900 | 9.0 | 6 | 4 | 0 |
| Sat Feb 15 | $305,900 | 9.5 | 6 | 5 | 0 |
| Fri Feb 14 | $152,200 | 8.3 | 5 | 4 | 0 |
| Wed Feb 12 | $133,700 | 10.3 | 5 | 4 | 0 |
| Sun Feb 9 | $151,000 | 9.2 | 6 | 4 | 0 |
News For Tampa Bay Downs
Top News