Sunray Park Entries & Results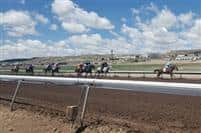 Located in Farmington, New Mexico, SunRay Park was originally opened as San Juan Downs in 1984, but the track closed in 1993. After closing in 1993, following racing approval the county fairgrounds track reopened in 1999 as SunRay Park. The racino has over 500 slot machines.
Get Expert Sunray Park Picks every day.
Sunray Park Results
| | Prize $ | #/race | Dirt | Turf | Synth |
| --- | --- | --- | --- | --- | --- |
| Sun May 29 | $370,000 | 10.7 | 10 | 0 | 0 |
| Sat May 28 | $281,000 | 11.4 | 10 | 0 | 0 |
| Fri May 27 | $262,500 | 11.4 | 10 | 0 | 0 |
| Sun May 22 | $412,500 | 11.0 | 10 | 0 | 0 |
| Sat May 21 | $315,500 | 10.4 | 11 | 0 | 0 |
| Fri May 20 | $248,500 | 9.8 | 10 | 0 | 0 |
| Sun May 15 | $334,000 | 10.3 | 10 | 0 | 0 |
| Sat May 14 | $319,500 | 9.6 | 10 | 0 | 0 |
| Fri May 13 | $267,000 | 10.3 | 10 | 0 | 0 |
| Sun May 8 | $381,500 | 9.8 | 10 | 0 | 0 |
Top News