Sunland Park Entries & Results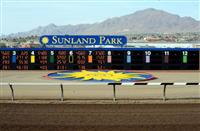 Sunland Park, located in a suburb of El Paso, was opened in 1959 and today features Thoroughbred and Quarter Horse racing.
Racing: Dec 28, 2018 to Apr 6, 2019.
Sunland Park's biggest stake: The $800,000, Grade 3 Sunland Derby, a Derby prep run March 24.
Sunland Park Results
| | Prize $ | #/race | Dirt | Turf | Synth |
| --- | --- | --- | --- | --- | --- |
| Sun Mar 15 | $236,400 | 9.8 | 10 | 0 | 0 |
| Sat Mar 14 | $156,300 | 9.0 | 10 | 0 | 0 |
| Fri Mar 13 | $142,800 | 9.0 | 10 | 0 | 0 |
| Tue Mar 10 | $130,500 | 7.7 | 10 | 0 | 0 |
| Sun Mar 8 | $207,300 | 9.3 | 10 | 0 | 0 |
| Sat Mar 7 | $249,800 | 8.4 | 10 | 0 | 0 |
| Fri Mar 6 | $157,900 | 9.2 | 9 | 0 | 0 |
| Tue Mar 3 | $143,000 | 8.1 | 10 | 0 | 0 |
| Sun Mar 1 | $231,200 | 9.4 | 10 | 0 | 0 |
| Sat Feb 29 | $140,000 | 9.4 | 10 | 0 | 0 |
News For Sunland Park
Top News