Saratoga Entries & Results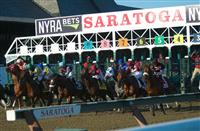 Saratoga - Saratoga Springs, NY
|
nyra.com
Saratoga, named one of the world's greatest sporting venues by Sports Illustrated, held its first thoroughbred meet in 1863, just a month after the Battle of Gettysburg.
Racing Jul 11 to Sep 2 2019.
Biggest stakes: The Travers Stakes, Whitney, Woodward and Alabama.
The 2019 Saratoga meet opens on Thursday, July 11. The opening day stakes races are the $150,000 Schuylerville Stakes for two-year-old fillies and the $100,000 Quick Call turf sprint for three-year-olds. Opening Day entries will be drawn on Saturday, July 6!
Saratoga Results
| | Prize $ | #/race | Dirt | Turf | Synth |
| --- | --- | --- | --- | --- | --- |
| Mon Sep 2 | $1,180,000 | 10.2 | 6 | 5 | 0 |
| Sun Sep 1 | $1,118,000 | 10.0 | 7 | 5 | 0 |
| Sat Aug 31 | $2,139,000 | 8.8 | 6 | 6 | 0 |
| Fri Aug 30 | $831,000 | 10.1 | 5 | 6 | 0 |
| Thu Aug 29 | $672,000 | 10.5 | 5 | 5 | 0 |
| Wed Aug 28 | $781,000 | 9.8 | 4 | 5 | 0 |
| Sun Aug 25 | $746,000 | 9.1 | 4 | 6 | 0 |
| Sat Aug 24 | $5,340,000 | 10.3 | 7 | 6 | 0 |
| Fri Aug 23 | $1,512,000 | 10.0 | 5 | 6 | 0 |
| Thu Aug 22 | $819,000 | 9.4 | 4 | 5 | 0 |
News For Saratoga
Top News