Monmouth Park Entries & Results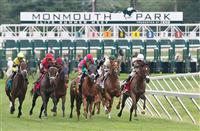 Monmouth Park's history dates back to July 30, 1870 when the track opened, just three miles from Long Branch. Legislation barred parimutuel betting in New Jersey in 1894 and the track was closed, later re-opening at the current location in 1946.
Racing May 4 to Sep 29 2019.
Biggest stakes: The Haskell, United Nations and Iselin Handicap.
Monmouth Park Results
| | Prize $ | #/race | Dirt | Turf | Synth |
| --- | --- | --- | --- | --- | --- |
| Sun Oct 27 | $314,250 | 10.6 | 10 | 0 | 0 |
| Sun Oct 20 | $305,500 | 9.4 | 8 | 1 | 0 |
| Sun Oct 13 | $293,000 | 9.1 | 8 | 1 | 0 |
| Sun Oct 6 | $338,750 | 8.6 | 8 | 1 | 0 |
| Sun Sep 29 | $380,000 | 8.4 | 8 | 3 | 0 |
| Sat Sep 28 | $609,000 | 9.9 | 6 | 4 | 0 |
| Sun Sep 22 | $384,500 | 8.9 | 8 | 2 | 0 |
| Sat Sep 21 | $393,000 | 9.5 | 7 | 4 | 0 |
| Sun Sep 15 | $355,875 | 8.7 | 9 | 1 | 0 |
| Sat Sep 14 | $404,000 | 8.2 | 8 | 2 | 0 |
News For Monmouth Park
Top News