Los Alamitos Entries & Results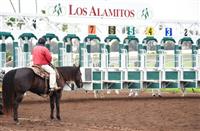 Los Alamitos was opened in 1951 and is best known as a premier Quarter Horse track. "Los Al" started running Thoroughbred meets in 2014 following the closing of Hollywood Park.
Los Alamitos' biggest stakes: The Los Alamitos Futurity, formerly the Hollywood Futurity and the Starlet Stakes.
Get Expert Los Alamitos Picks every day.
Los Alamitos Entries
Los Alamitos Results
| | Prize $ | #/race | Dirt | Turf | Synth |
| --- | --- | --- | --- | --- | --- |
| Sun Jan 29 | $145,500 | 6.2 | 10 | 0 | 0 |
| Sat Jan 28 | $106,495 | 7.4 | 10 | 0 | 0 |
| Sun Jan 22 | $134,485 | 6.9 | 10 | 0 | 0 |
| Sat Jan 21 | $131,035 | 6.9 | 10 | 0 | 0 |
| Sun Jan 8 | $121,225 | 6.0 | 9 | 0 | 0 |
| Sat Jan 7 | $115,900 | 6.8 | 9 | 0 | 0 |
| Sun Jan 1 | $235,890 | 7.9 | 10 | 0 | 0 |
| Sat Dec 31 | $119,000 | 7.1 | 9 | 0 | 0 |
| Sun Dec 18 | $289,800 | 7.6 | 10 | 0 | 0 |
| Sat Dec 17 | $115,300 | 6.8 | 8 | 0 | 0 |
Top News