Los Alamitos Entries & Results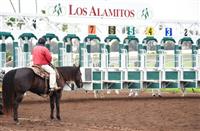 Los Alamitos was opened in 1951 and is best known as a premier Quarter Horse track. "Los Al" started running Thoroughbred meets in 2014 following the closing of Hollywood Park.
Racing: (TB) Jun 27-July 14, Sept 5-22, Dec 5-15 (QH) Weekly
Los Alamitos' biggest stakes: The Los Alamitos Futurity, formerly the Hollywood Futurity and the Starlet Stakes.
Los Alamitos Entries
Los Alamitos Results
| | Prize $ | #/race | Dirt | Turf | Synth |
| --- | --- | --- | --- | --- | --- |
| Sun Jan 17 | $85,330 | 6.1 | 8 | 0 | 0 |
| Sat Jan 16 | $88,650 | 5.9 | 8 | 0 | 0 |
| Fri Jan 15 | $100,000 | 6.3 | 8 | 0 | 0 |
| Sun Jan 10 | $74,630 | 6.3 | 8 | 0 | 0 |
| Sat Jan 9 | $80,855 | 6.1 | 8 | 0 | 0 |
| Fri Jan 8 | $99,070 | 6.9 | 8 | 0 | 0 |
| Sun Jan 3 | $175,790 | 6.8 | 8 | 0 | 0 |
| Sat Jan 2 | $106,540 | 6.6 | 8 | 0 | 0 |
| Fri Jan 1 | $77,235 | 7.1 | 8 | 0 | 0 |
| Sun Dec 27 | $99,345 | 7.3 | 8 | 0 | 0 |
Top News