Laurel Park Entries & Results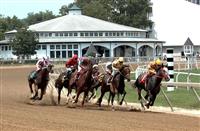 Laurel Park opened in 1911, providing racing action to fans in Baltimore and Washington, D.C. Laurel Park hosts the Jim McKay Maryland Million day each fall since 1987.
Racing: to Mar 31, Apr 5-May 5, May 31-Aug 18, Sept 6-Dec 31.
Biggest stakes: De Francis Dash, scheduled on April 6 for 2019, and the Maryland Million Classic held every Fall.
Laurel Park Results
| | Prize $ | #/race | Dirt | Turf | Synth |
| --- | --- | --- | --- | --- | --- |
| Sun Mar 15 | $138,000 | 7.3 | 8 | 0 | 0 |
| Sat Mar 14 | $621,000 | 7.9 | 11 | 0 | 0 |
| Fri Mar 13 | $247,000 | 7.8 | 8 | 0 | 0 |
| Sun Mar 8 | $195,000 | 6.8 | 8 | 0 | 0 |
| Sat Mar 7 | $237,000 | 7.0 | 9 | 0 | 0 |
| Fri Mar 6 | $284,000 | 6.8 | 9 | 0 | 0 |
| Sun Mar 1 | $179,000 | 7.0 | 8 | 0 | 0 |
| Sat Feb 29 | $190,000 | 7.3 | 8 | 0 | 0 |
| Fri Feb 28 | $167,000 | 7.6 | 8 | 0 | 0 |
| Thu Feb 27 | $175,000 | 6.8 | 8 | 0 | 0 |
News For Laurel Park
Top News