Kentucky Downs Entries & Results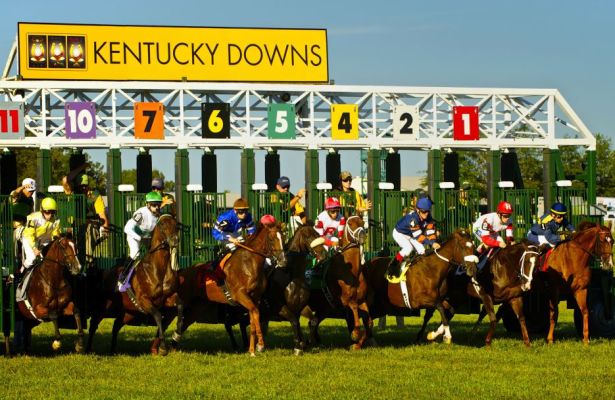 Kentucky Downs is a European-style turf track that opened in 1990 as Dueling Grounds Race Course. In 1997 it was renamed Kentucky Downs under new owners and to this day features both flat and steeplechase racing.
Racing: Aug 31 - Sep 12, 2019.
Biggest stakes: The Kentucky Cup Turf Stakes, the Tourist Mile and the Dueling Grounds Derby.
Kentucky Downs Results
| | Prize $ | #/race | Dirt | Turf | Synth |
| --- | --- | --- | --- | --- | --- |
| Thu Sep 12 | $1,920,000 | 14.8 | 0 | 10 | 0 |
| Sun Sep 8 | $1,935,000 | 13.2 | 0 | 10 | 0 |
| Sat Sep 7 | $3,880,000 | 14.0 | 0 | 10 | 0 |
| Thu Sep 5 | $1,310,000 | 15.2 | 0 | 10 | 0 |
| Sat Aug 31 | $2,742,000 | 14.5 | 0 | 10 | 0 |
News For Kentucky Downs
Top News