Gulfstream Park West Entries & Results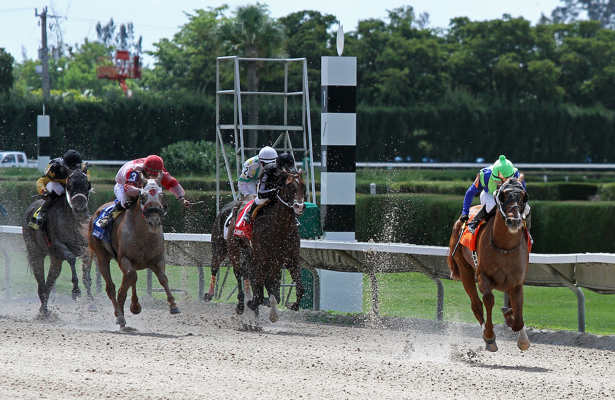 Gulfstream Park West was opened as Calder Racecourse in 1971 with a 1-mile dirt track and a 7-furlong turf course. In 2015 it was decided that, under management of the Stronach Group, the track would operate as Gulfstream Park West.
Racing: Oct 2 - Nov 24, 2019
Biggest stakes: The Carl G. Rose Classic Handicap and the Elmer Heubeck Distaff Handicap.
Gulfstream Park West Results
| | Prize $ | #/race | Dirt | Turf | Synth |
| --- | --- | --- | --- | --- | --- |
| Sun Nov 24 | $169,000 | 9.6 | 4 | 5 | 0 |
| Sat Nov 23 | $233,000 | 8.4 | 4 | 5 | 0 |
| Fri Nov 22 | $220,000 | 8.4 | 4 | 4 | 0 |
| Thu Nov 21 | $181,000 | 9.1 | 4 | 4 | 0 |
| Wed Nov 20 | $217,000 | 9.4 | 4 | 4 | 0 |
| Sun Nov 17 | $225,000 | 10.1 | 4 | 4 | 0 |
| Sat Nov 16 | $214,000 | 11.1 | 5 | 4 | 0 |
| Fri Nov 15 | $214,000 | 8.6 | 4 | 4 | 0 |
| Thu Nov 14 | $210,000 | 9.0 | 4 | 4 | 0 |
| Wed Nov 13 | $193,000 | 9.5 | 4 | 4 | 0 |
News For Gulfstream Park West
Top News