Delta Downs Entries & Results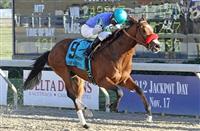 Opened in 1973, Delta Downs hosts Thoroughbred and Quarter Horse racing.
Racing: (TB) Oct 17, 2018 to Mar 9, 2019. (QH) Apr 19 to July 6
Delta Downs biggest stakes: Delta hosts Louisiana-bred Premier night each winter and held the Delta Downs Jackpot from 2002-1016.
Delta Downs Results
| | Prize $ | #/race | Dirt | Turf | Synth |
| --- | --- | --- | --- | --- | --- |
| Sat Feb 29 | $308,500 | 10.1 | 11 | 0 | 0 |
| Fri Feb 28 | $280,000 | 11.3 | 11 | 0 | 0 |
| Thu Feb 27 | $198,000 | 9.8 | 9 | 0 | 0 |
| Wed Feb 26 | $219,000 | 9.8 | 9 | 0 | 0 |
| Tue Feb 25 | $249,500 | 10.0 | 9 | 0 | 0 |
| Sat Feb 22 | $203,000 | 10.2 | 9 | 0 | 0 |
| Fri Feb 21 | $191,000 | 9.2 | 9 | 0 | 0 |
| Thu Feb 20 | $156,500 | 10.6 | 9 | 0 | 0 |
| Wed Feb 19 | $178,500 | 10.6 | 9 | 0 | 0 |
| Sat Feb 15 | $157,500 | 9.6 | 9 | 0 | 0 |
News For Delta Downs
Top News