Del Mar Entries & Results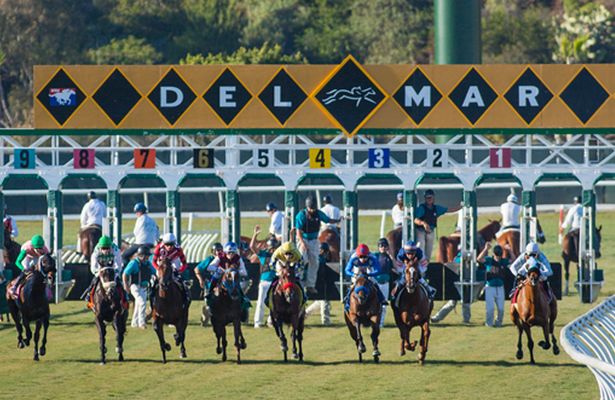 Del Mar, known as "Where the Surf Meets the Turf", was founded by a group of Hollywood stars including Bing Crosby in 1937. Del Mar hosted its first Breeders' Cup in 2017 and will host again in 2021.
Racing: Jul 17 to Sep 2, Nov 8 to Dec 1, 2019.
Biggest stakes: The Pacific Classic, the Eddie Read Handicap, and the $300,000 Del Mar Oaks.
Del Mar Results
| | Prize $ | #/race | Dirt | Turf | Synth |
| --- | --- | --- | --- | --- | --- |
| Sun Dec 1 | $939,000 | 10.2 | 4 | 6 | 0 |
| Sat Nov 30 | $949,000 | 10.2 | 5 | 5 | 0 |
| Fri Nov 29 | $289,000 | 9.1 | 9 | 0 | 0 |
| Sun Nov 24 | $446,000 | 9.0 | 4 | 5 | 0 |
| Sat Nov 23 | $418,000 | 8.3 | 5 | 4 | 0 |
| Fri Nov 22 | $296,000 | 8.0 | 8 | 0 | 0 |
| Sun Nov 17 | $391,000 | 7.9 | 4 | 4 | 0 |
| Sat Nov 16 | $430,000 | 7.8 | 5 | 4 | 0 |
| Fri Nov 15 | $296,000 | 8.3 | 4 | 4 | 0 |
| Thu Nov 14 | $310,000 | 7.6 | 4 | 4 | 0 |
News For Del Mar
Top News