Churchill Downs Entries & Results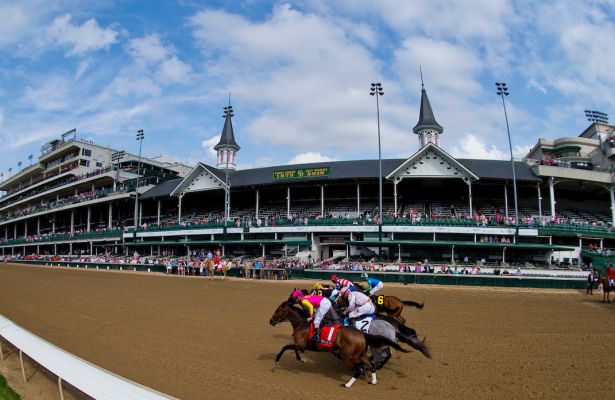 Meriwether Lewis Clark Jr. opened Churchill Downs in then-rural Louisville in 1875. Since then it has hosted America's longest-held sporting event, the Kentucky Derby, the Kentucky Oaks, and the Clark Handicap each year.
Racing: Apr 27 - Jun 29, Sep 13 -29, Oct 27 - Nov 30, 2019
Biggest stakes: Kentucky Derby, Kentucky Oaks, Stephen Foster Handicap, and the Clark Handicap.
Churchill Downs Results
| | Prize $ | #/race | Dirt | Turf | Synth |
| --- | --- | --- | --- | --- | --- |
| Sun Dec 1 | $764,000 | 10.4 | 12 | 0 | 0 |
| Sat Nov 30 | $1,558,000 | 14.2 | 10 | 2 | 0 |
| Fri Nov 29 | $1,455,000 | 11.8 | 11 | 1 | 0 |
| Thu Nov 28 | $1,183,000 | 12.3 | 10 | 2 | 0 |
| Wed Nov 27 | $554,000 | 11.8 | 8 | 2 | 0 |
| Sun Nov 24 | $591,000 | 11.6 | 8 | 2 | 0 |
| Sat Nov 23 | $743,000 | 11.5 | 9 | 2 | 0 |
| Fri Nov 22 | $560,000 | 9.9 | 8 | 2 | 0 |
| Thu Nov 21 | $622,000 | 11.5 | 7 | 3 | 0 |
| Wed Nov 20 | $582,000 | 12.0 | 8 | 2 | 0 |
News For Churchill Downs
Top News