Arlington Park Entries & Results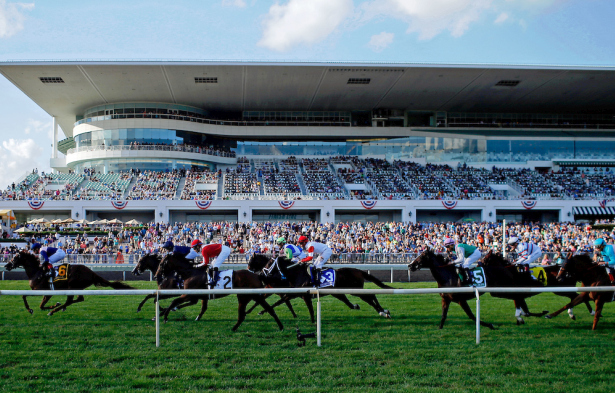 Arlington Park opened in 1927 and in 1981 became the first racetrack to host a race with a million-dollar purse, the Arlington Million. The dirt course was replaced with a synthetic track before the 2007 meet.
Racing: May 3 - Sep 21, 2019.
Biggest stakes: The Arlington Million, the Beverly D. Stakes, and the Secretariat Stakes.
Arlington Park Results
| | Prize $ | #/race | Dirt | Turf | Synth |
| --- | --- | --- | --- | --- | --- |
| Sat Sep 21 | $113,800 | 10.9 | 0 | 2 | 6 |
| Fri Sep 20 | $153,000 | 10.8 | 0 | 6 | 2 |
| Thu Sep 19 | $145,100 | 9.5 | 0 | 3 | 5 |
| Wed Sep 18 | $122,600 | 10.1 | 0 | 5 | 3 |
| Sat Sep 14 | $129,000 | 8.1 | 0 | 6 | 2 |
| Fri Sep 13 | $126,300 | 7.8 | 0 | 4 | 4 |
| Thu Sep 12 | $141,000 | 8.9 | 0 | 4 | 4 |
| Sat Sep 7 | $268,000 | 9.9 | 0 | 3 | 6 |
| Fri Sep 6 | $160,500 | 7.9 | 0 | 4 | 4 |
| Mon Sep 2 | $169,000 | 9.5 | 0 | 3 | 5 |
News For Arlington Park
Top News