Aqueduct Entries & Results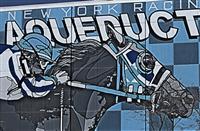 Aqueduct Race Track opened in 1894 on the old Brooklyn Water Works property, home to a conduit that brought water to New York City. And thus, the name "Aqueduct" was given.
Racing: Dec 7 to Apr 20, 2019.
Aqueduct's biggest stakes: Wood Memorial, scheduled on April 6 for the 2019 Wood Memorial.
Aqueduct Results
| | Prize $ | #/race | Dirt | Turf | Synth |
| --- | --- | --- | --- | --- | --- |
| Sun Mar 15 | $520,000 | 7.6 | 9 | 0 | 0 |
| Sat Mar 14 | $464,000 | 8.3 | 9 | 0 | 0 |
| Fri Mar 13 | $446,000 | 9.6 | 9 | 0 | 0 |
| Sun Mar 8 | $453,000 | 9.3 | 9 | 0 | 0 |
| Sat Mar 7 | $1,200,000 | 9.9 | 10 | 0 | 0 |
| Fri Mar 6 | $415,000 | 9.3 | 9 | 0 | 0 |
| Sun Mar 1 | $473,000 | 7.1 | 9 | 0 | 0 |
| Sat Feb 29 | $518,000 | 8.0 | 9 | 0 | 0 |
| Fri Feb 28 | $421,000 | 7.1 | 8 | 0 | 0 |
| Sun Feb 23 | $461,000 | 7.1 | 8 | 0 | 0 |
News For Aqueduct
Top News